Follow John McCarthy, EdS on Twitter at @JMcCarthyEdS. Check the resources on this site and here as well for So All Can Learn.
Talk Moves: Students Learn to Own Learning Conversations
In a science classroom at Marysville Middle School, the students in Amy Busen's class are participating in an active conversation where they respond to each other's comments. The interaction is not a traditional approach, where the conversation moves between the teacher and a handful of students like a ping-pong match, while everyone else watches. The dialog moves among the students, with the teacher picking up the thread with an insight sparked from a student or a question to shift the conversation. The topics are Science-based. I've also seen this same tool used in a Texas school district.
The process remains a work in progress. The students have a collection of conversation prompts taped to their tables as reference. They are called, the Talk Moves. Here is an ELL version on this site.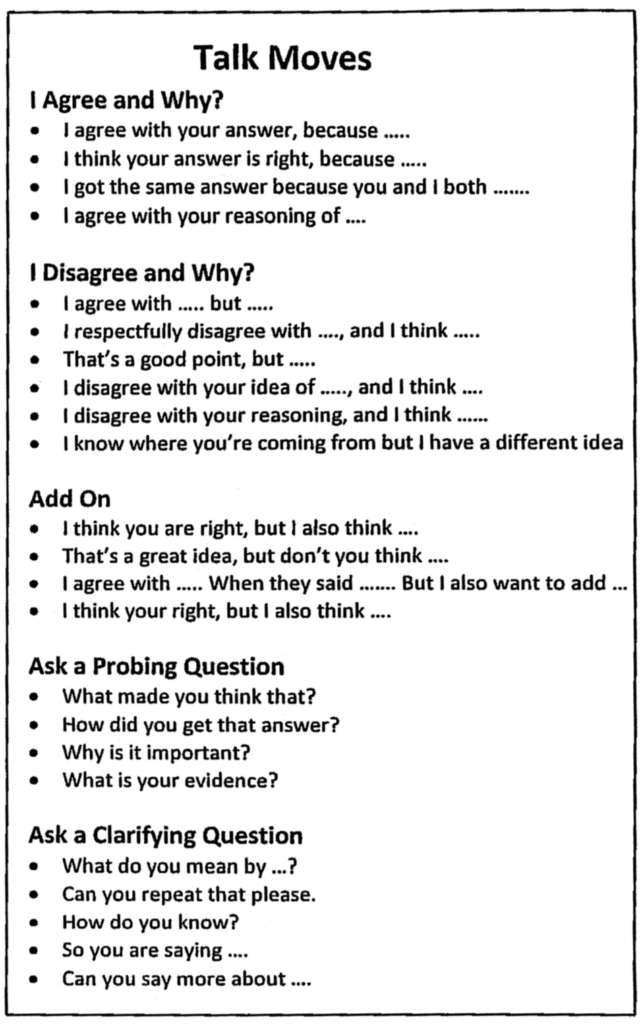 The Science teachers at Marysville learned and developed their practice around the Talk Moves through support by St. Clair County Regional Educational Service Agency, one of the ISDs in Michigan, as part of work on the Next Generation Science Standards. The way that Science teachers in Marysville are using them are as prompts for the students to use. This is significant. Having researched the Talk Moves, the various resources and references appear to focus on prompts for the teacher to ask students. Whereas the questions above are being framed for use by students.
These conversation prompts could be used in any discipline for subject area conversations that are student led. Consider the possibilities for how these tools could support student-run protocols like Socratic Seminar, Harkness Discussion, Tuning Protocols, and others.
Teach students the purpose, intent, and how to use these prompts. As students practice them, coach on the quality and choice for when they are used. Have students reflect on their own usage so that they internalize the appropriateness and effectiveness of these conversation tools.
How might the conversations in your classroom or meetings evolve by using the Talk Moves?