I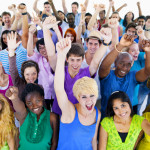 t's been a crazy, busy summer. But the work has paid off as I've completed the work on my new book, which comes out in February 2017:
So All Can Learn – A Practical Guide to Differentiation
by John McCarthy
Published by Rowman & Littlefield
"So All Can Learn" is one of the few that connects teaching pedagogy with practical means to implement differentiation. Over the years, I've received many questions about what is differentiation, how do you actually implement in a meaningful way, and how do you address the obstacles for differentiation to happen. The answers will be found in this book 🙂
Guide for understanding the "Why" and "How" of effective differentiation
Strategies for improving the learner experience
Examples and case studies to help educators transform practice
Reflective questions for study groups and coaches of groups to ground their learning
Addressing answers to the common obstacles that teachers express for differentiation to occur
Subscribe for Updates about the book
In the next several months, I will send updates regarding where and when to pre-order the book, as well as when the companion website is available: SoAllCanLean.org. Subscribe for email updates using the form on this website.
Follow me on Twitter: @JMcCarthyEdS. Get the updates as they come.