Esports Camp Format Validated by an Evaluation Report
Desports, an esports camp ran for one week for campers in grades 9-12. The camp followed a club style approach that focused on exploring computer science careers, experiencing a healthy gaming culture, and practicing Global Professional Skills (GPS) that included communication, collaboration, empathy, and reflection. The campers participated in a series of activities about these topical areas that incorporated game play, inquiry sessions, and design thinking tasks.
Results
The evaluation of the camp was based on an observations by the evaluator and pre and post-surveys (including open response questions) taken by the campers. Important results from the Executive Findings (p. 3 and 8) included:
77% of campers increased their interest intaking computer science courses
All campers reported increased their communication and strategic gaming skills following the academy
55% of campers increased their interest in seeking a computer science major
The evaluation (p. 3) concluded that:
"The Academy [esports camp] increases campers' interest in computer science by connecting them with experienced faculty, speakers, and like-minded students. Campers enjoyed having role models in computer science who made them reconsider the field as a realistic pathway to continued interaction with gaming. DeSports can address camper feedback to make the camp even more successful moving forward."
Closing Thoughts
Desports was based on a camp model that provided experiences similar to an extracurricular club. The design was different from a previous iteration that focused more on an esports team competition format. This new format created a strong culture for reflection and growth mindset. Incorporating the themes of Community, Storytelling, Servant Leadership, and Creative Thinking, the campers explore a wider variety of computer science career fields that are present both inside and outside of esports. Games, reflection protocols, and team builders were part of the process that campers experiences, along with the dedicated and intentional actions by staff regarding inquiry and reflection experiences.
The esports camp design is available by DePaul University and Opening Paths.
Download a copy of the evaluation report to review the full findings.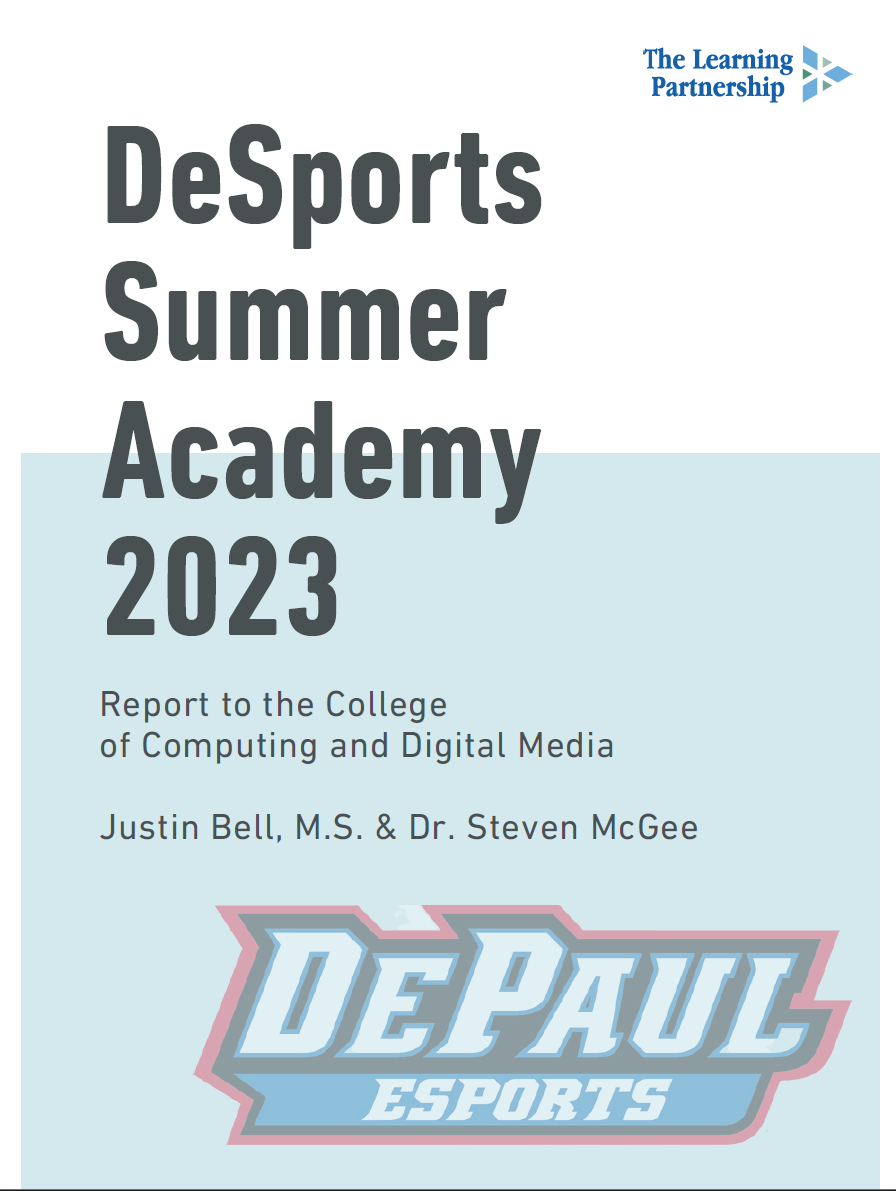 Click the image above to download a pdf of the evaluation report.
Esports Services: View more details about Esports Camps.
Esports Resources: View articles and designs, many that we created for clients, that can support your esports journey.