Here is a Guest Blog by the talented Julie Petersen. The topic is timely with rich resources to meet any classroom teacher looking to expand their practice for meeting learner needs.
Julie Petersen is a private English language tutor and a blogger, who features the latest career and educational trends in her articles. At present time she is running her educational blog AskPetersen and working on her first ebook dedicated to online learning. You can also follow her on Twitter @JuliePetersen88. Enjoy…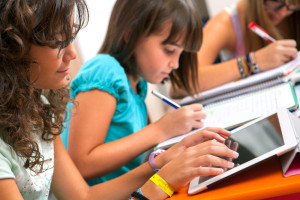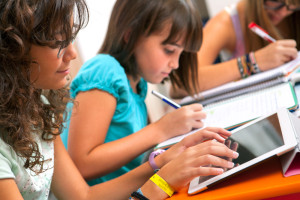 When your students get back to school after a long summer of relaxation and fun, they are not exactly motivated to study. The summer slide is a serious problem, so all teachers need to learn how to deal with it. Instead of forcing the students to write tons of homework and frightening them with low grades, you should find a more creative approach. The following 11 tools will help you inspire K-12 students to get back on track at the beginning of the new school year.
You'll discover tons of educational videos, games and lessons for K-12 learners. It's important to add some fun into the teaching process; otherwise the entire class will be too bored to think about the concepts you are trying to explain. When you infuse some quizzes, interactive diagrams, vocabulary games, and other activities into the practice, everyone will be able to see how theory works in practice.
NeoK12 provides resources in the following subject areas: math, social studies, life science, physical science, geography, human body, English, history, and more.
This is one of the most effective tricks for making math and reading fun for young students: tell them to play games at Funbrain. The games are listed in four categories: math, reading, fun, and playground (featuring various games for parents and kids). All these resources are appropriate for the classroom. The Funbrain Game Finder will enable you to find the perfect games for your students.
You have a responsibility to teach your students how to craft papers and motivate them to approach the academic writing process with enthusiasm. Try using this online resource in the new semester, so you can show awesome samples of unique content that will present academic style from a different angle. You can collaborate with writers experienced and educated in different areas of study, so you'll always have an appropriate paper to show as an example to your students. The blog section will help you find ways to inspire your students to write more.
PowerMyLearning is the perfect resource that will help you implement blended learning into your classroom. You can create a playlist of digital content, add learning activities and include formative assessments. Then, you can monitor the learning process and provide your students with feedback through the same platform. When you start relying on this tool, there will be much more time for evaluation, discussion, and practical implementation of knowledge in the classroom.
The mission of the Annenberg Foundation is to advance the teaching practices in American schools through multimedia resources. The organization funds and distributes over 100 multimedia courses and workshops that keep educators updated with the current developments in the educational industry. As a teacher, you can also earn graduate education credit through Colorado State University when you use these resources.
Textbooks are so overestimated. You can find better, more versatile resources online, but you need to know where to look for them. Know It All is an educational portal that lists a collection of interactive websites that make learning fun for K-12 students. Don't limit your search to the featured sites; this online resource is full of information and tools categorized by grade level and subject.
You always wanted to infuse some George Lucas wisdom into the classroom? Edutopia is your chance to do that without being judged by supervisors and parents. Did you know that Lucas was often bored at school? Well, he doesn't lack creativity, so he managed to find a way to make knowledge more fun and engaging. Edutopia enables teachers to apply innovative methods for making K-12 students more productive learners.
This online community will teach you what approaches work and what you should avoid in K-12 education. The core strategies emphasized at the website are: project-based learning, educational leadership and teacher development, comprehensive assessment, social and emotional learning, and integration of technology into the learning process.
Before you ditch this website because it lacks an appealing design, you should test at least one of its resources. First, you'll need to choose a grade and identify your role (the offered categories are teacher or tutor, parent or guardian, and students). Then, you should choose one of the following options: classroom in a public school, private school, or tutoring. There are few more steps: the tool will ask you if you want only worksheets, or you prefer getting access to games, online activities, worksheets, and more. Once you join the website, you'll find tons of resources that are ready for use in the classroom.
This online tool enables you to turn your PowerPoint slides into actual e-learning courses in a matter of seconds. You can publish these materials online and enable your students to access them at home. That will add a great value to your course, since the students will already be aware of the concepts before you start presenting them in the classroom. Take your time to explore the tools offered by ClickClass; you can enrich your materials with interactive quizzes, discussion boards, videos, downloadable documents, and more.
This online project reminds you that being a kid is all about having fun and learning about the life that surrounds you. Teachers tend to forget the importance of childhood experiences, so they force their students to memorize irrelevant information. Light Up Your Brain contains brain-stimulating games that teach valuable lessons through fun. You can listen to audio stories and music in the classroom, play educational games and watch videos. There is also a coloring section with great images.
This online domain enables teachers to store, categorize, and rank the best educational videos for K-12 students. The Internet is an immense source of visual data, but that doesn't mean you can easily decide which video to show in the classroom. This website makes that part of your job easier. All videos are assigned into proper categories. The reviews will help you decide if a particular video is a good choice for your students. All resources are classroom safe!
When you add a certain level of fun and amusement into your teaching approach, you students will be glad they are back to school!