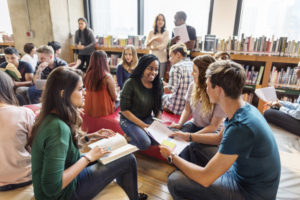 Authentic Learning Experiences (ALE) and Project Based Learning (PBL) are highly effective means to engage learners into content by giving contextual purpose to the real world beyond the school walls. Here are resources to guide your visioning of implementation. These resources are based on my extensive experience successfully guiding and leading staff to effective ALE/PBL development. –John McCarthy, Ed.S.
Highlighted Resource: Checklist for Management Components for Innovative Practices
---
Authentic Learning Experiences
---
What is PBL?
---
Project Libraries
---
Project Development
Step One of Designing a PBL unit


Begin with unpacking the key standards for concepts and skills. Keeping the End in Mind, what is that students should know, understand, and be able to do?
Driving Questions (DQ) Development
A DQ or Challenge statement is at the heart of an effective PBL unit. It should happen once the previous steps are accomplished. Review these articles for effective crafting of your DQ.
Create a Student Learning Wall
(Learn more)

aka Project or ALE Walls


This tool is key to daily communication and support of learning for students.
---
Assessment
---
Implementation
Need to Know Process:
Entry Events
These are critical to launching a PBL unit that engages and inspires students to care about the learning journey. Here are some resources to help launch a powerful start to a PBL unit.
Key Elements for Success
Checklist for Management Components for Innovative Practices
---
Managing ALE/PBL units
Forming Teams

– using student information. Learning Profile Cards is a strategy that helps to build student teams based on information shared by student perception data about how they learn.
Team Building Activities
Help teams learn how to work together, collaborate and communicate effectively. After completion, ask: "What were the qualities and skills you used to be successful at this task?" In addition to the examples in the link above:
Teampedia.net 

is a library of team building activities.

The Mediation Process – Empower students to solve problems within their team without needing assistance by the teacher.
Sample contracts and other PBL resources
Students need to establish work agreements for how they will work together as a team. Contracts that they create–wholly or in parts–helps develop buy-in.
Managing the Learning Process
Cultivating Student Voice and Engagement
Instructional Practices that Support PBL
Article Reads for Differentiation
Fostering Inquiry throughout a PBL unit
Quality Instruction + Differentiation: Beyond the Checklist
Eliminate the Student Checklist Mentality by making instruction transparent.
Instructional Use of Technology to Support PBL units
Additional References